Welcome to our website!
The Usuki Stone Buddhas (Usuki Sekibutsu) are in the city of Usuki in central Oita Prefecture, located approximately 40 km southeast of the city of Beppu and its famous for hot springs.
Usuki has vestiges of the past that remain unchanged, including narrow streets, numerous temples and rows of samurai residences. The city is a very popular tourist site.
The Christian feudal lord, OTOMO Sorin (1530-1587) built a castle in Usuki and moved there, turning Usuki into a castle town and forming the foundation of the present-day city.
A large port that existed in Usuki in the mid 16th century conducted active trade with Europe and China, leading Usuki to prosperity as the heart of the 6 provinces that existed at that time in Kyushu region. It was also the center of Western culture.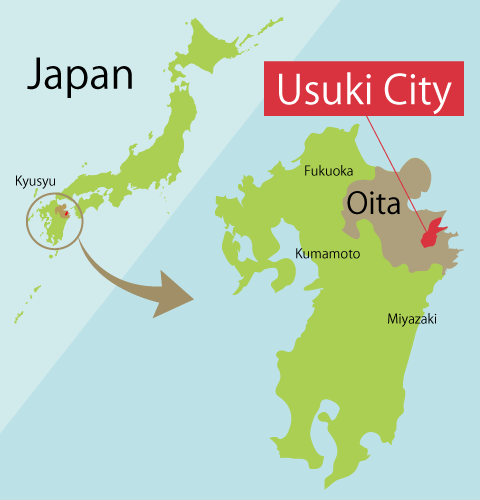 Access
40 mins by limited express from JR Beppu Station to JR Usuki Station.
30 mins by limited express from JR Oita Station to JR Usuki Station.
From JR Usuki Station to Usuki Stone Buddhas:
15 mins by taxi (about 2,000yen for one way)
20 mins by transit bus (about 310yen for one way)
35 mins by rental bicycle (free rental from Usuki Station)
Hours
Open year round
9:00am – 5:00pm *Last entry is at 4:30pm.
Entrance fee
Adults (Ages 15 & over)   550 yen
Children (Ages 6-14)     270 yen
What are the Usuki Stone Buddhas?
Usuki Stone Buddhas (Buddha figures carved in rock)
These are figures of Buddha carved in rock (magaibutsu)* in Usuki City, Oita Prefecture that have been designated a national treasure.
More than 60 figures were carved in rock face created by hardened volcanic ash and molten rock that erupted from Mt. Aso (Kumamoto Prefecture) approximately 90,000 years ago.
The figures are believed to have been carved from the Heian period (794–1185) to the Kamakura period (1185–1333), but who carved them or why is unknown. They are still shrouded in many mysteries.
All the figures of Buddha are carved into the rock and cannot be moved. For around 1,000 years they have continued to watch over us from the same spot.
In June 1995, the magnificent carvings were recognized by becoming the first figures of Buddha carved in rock (magaibutsu)* to be designated a national treasure in Japan.
The Usuki Stone Buddhas have earned great international appreciation as a cultural heritage in light of the number of figures, their beauty, and remarkable carving techniques used despite the solid rock face.
(*Magaibutsu are figures of Buddha directly carved into rock face.)
Gallery of Usuki Stone Buddhas